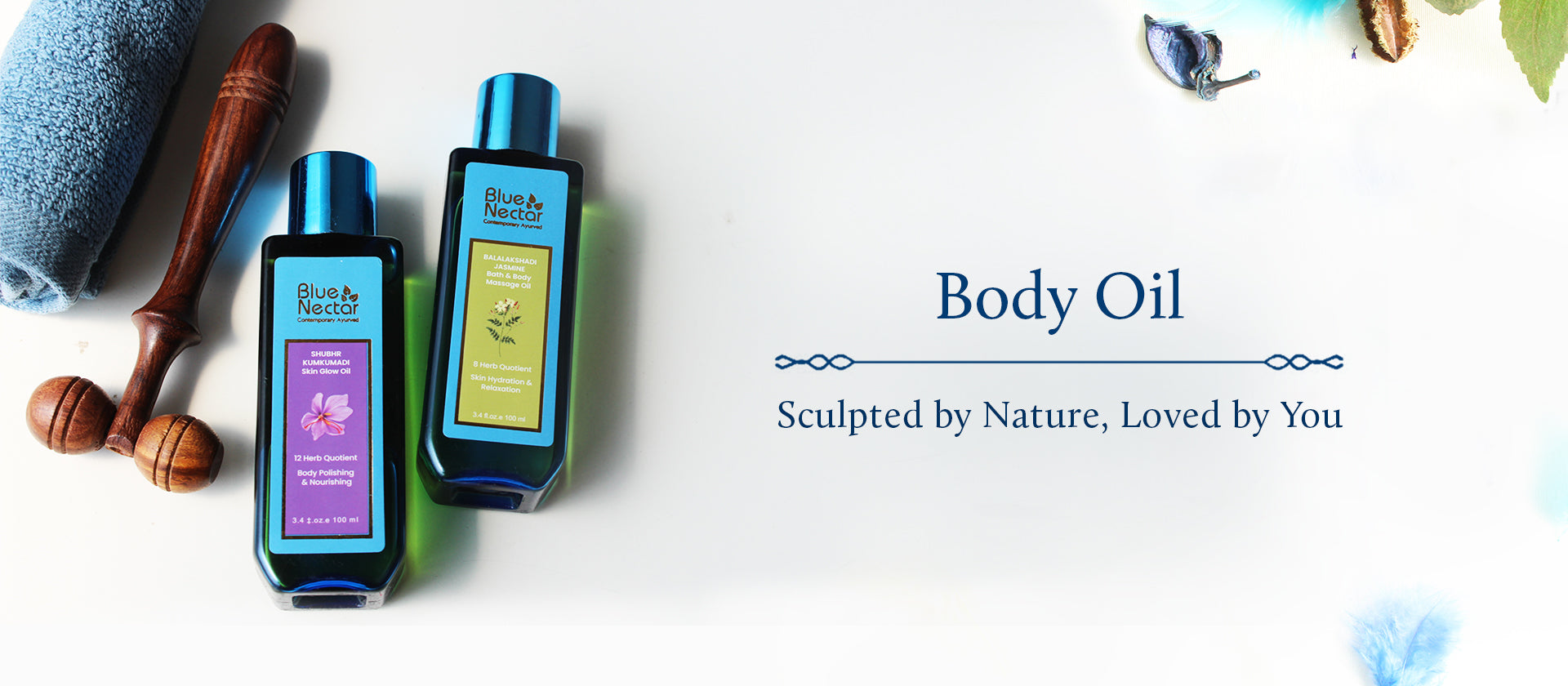 9 products
1. What makes Balalakashadi Massage Oil special?
Balalakashadi Massage Oil is a unique Ayurvedic body massage oil with a sensuous jasmine aroma and a light texture. It's perfect for both professional and home spa use. The blend of 8 vital herbs like Bala, Lac Peepal, and the absence of preservatives and chemicals set it apart.
2. How do I use Balalakashadi Massage Oil effectively?
You can use this oil before or after bathing. Its non-greasy, easily absorbed formula ensures a pleasant and smooth massage experience.
3. Can I use Balalakashadi Massage Oil before or after bathing?
Absolutely! It is suitable for use before or after bathing, offering a light, non-greasy texture that quickly absorbs into the skin.
4. What are the key ingredients in Devtvakadi Pain Relief Oil?
This Ayurvedic oil contains 17 potent Ayurvedic herbs, including Cinnamon and Clove, to provide natural relief from back pain, joint pain, and pain in the legs and knees.
5. Is Devtvakadi Pain Relief Oil safe for pregnant women to use?
Yes, this oil is safe for both men, women, and even pregnant women.
6. How does Devtvakadi Potli work for pain relief?
Devtvakadi Potli contains 16 Ayurvedic herbs, including Neem and Turmeric, known for their pain-relief properties. When used as a hot compress, it's a strong yet safe and Ayurvedic treatment for body pain.
7. Are there any side effects associated with Devtvakadi Potli ?
No, Devtvakadi Potli is 100% Ayurvedic and natural, with no side effects. When used in conjunction with Devtvakadi Oil, it can help relax muscles and improve blood circulation, relieving muscle and joint pain.
8. How does Shubhr Kumkumadi Skin Glow Oil improve skin tone?
It contains Ayurvedic ingredients like Kumkumadi Oil and Almond Oil, rich in vitamins A, C, and E, which help even out skin tone and revitalize dull skin.
9. How does Kumkumadi Skin Glow Oil work?
The Kumkumadi Skin Glow Oil or body polishing oil is enriched with 12 Ayurvedic herbs, including Kumkumadi Oil and Almond Oil, which help improve skin glow and reduce the appearance of scars. It evens out skin tone, moisturizes, and nourishes the skin.
10. Is Kumkumadi Skin Glow oil suitable for all skin types?
Yes, Shubhr Kumkumadi Skin Glow Oil is suitable for all skin types and is particularly beneficial for revitalizing dull and tired skin. It's known for its quick absorption and aromatic aroma.
11. What makes Briganantadi Baby Hair Oil suitable for babies?
This baby hair oil is a blend of 18 pure Ayurvedic herbs that provide deep nourishment for your baby's gentle scalp and hair. It contains no artificial fragrance or mineral oils, making it the perfect choice for baby's hair.
12. When is the best time to use Briganantadi Baby massage oil for babies?
The ideal time to use Briganantadi Baby Massage Oil for your little one is just before their bath. Gently massage the oil onto your baby's skin to ensure it's evenly absorbed. Remember to use gentle, circular motions while massaging to provide the best care for your baby's skin.
13. How does Briganantadi Baby Hair Oil improve hair growth?
Briganantadi Baby Hair Oil's key ingredients, such as Ghee and Almond Oil, are known for promoting hair growth and strengthening. These herbs provide essential nutrition to hair follicles and improve blood circulation, contributing to healthy hair.
14. What are the benefits of Nalpamaradi Tailam?
Nalpamaradi Tailam is an Ayurvedic turmeric body massage oil that helps brighten the skin and reduce tan. With 16 Ayurvedic herbs, including turmeric and sesame oil, it repairs the skin, reduces uneven skin tone, and pigmentation.
15. Is Nalpamaradi Tailam a good choice for skin moisturization?
Yes, sesame oil, one of its key ingredients, is known for being a perfect body moisturizer in Ayurveda. This oil offers a potent combination of herbs with healing, repairing, and brightening properties, making it a popular choice for bridal beauty treatments.